When:
2022-05-16T00:00:00-07:00
2022-05-17T00:00:00-07:00
Where:
PCA Diablo DE at Laguna Seca
1021 Monterey Salinas Hwy
Salinas, CA 93908
USA

Porsche Club of America Diablo Region Track Day at WeatherTech Raceway Laguna Seca
Monday, May 16, 2022
Limited size run groups, lots of track space, tons of track time
"Have Fun, Be Safe, Drive Fast"
THIS EVENT IS FOR PORSCHE CARS ONLY – All event details can be found at www.diablo-de.org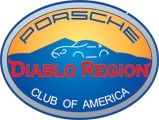 4/19/2022: DE101 rescheduled to Wednesday, May 4, 2022, from 6:00 PM to 7:30 PM.  Check the DE website for additional information.
General Event Information:
This event is open to all Porsche drivers. Only Porsche cars are allowed at this event.
We are a Porsche club, not a driving school or a driving business. We run several safe, fun, and friendly track events each year. We do not race, time trial, or time laps. We limit this event to 25 cars per run group so that we can offer plenty of room on track and lots of track time.